I'm not gonna sugarcoat it guys. If you want to get recruited to play football in college, you need to have a good highlight reel. The ability to make a good highlight reel is a crucial, must-have tool in an athletes recruiting toolbox. Most college coaches and scouts don't have the time to travel across the country to watch you play in person. That's why a highlight reel is one of the most important parts of getting recruited. It just takes a few minutes to show college coaches what you can do on the gridiron.
Luckily, most athletes already know that you need to have a good highlight reel, but unfortunately, they don't know what a recruiter is actually looking for. Maybe you're a newbie at football, or just don't have a lot of recruiting experience, but if that's you, don't worry. I've included guidelines and details on how to make a highlight reel, as well as specific things to show based on your position.
Use HUDL
The best platform to make highlight reels and get noticed is HUDL. It is arguably the most popular platform for making football highlight reels. HUDL allows you to take clips from your games and upload them onto your profile. Coaches and scouts are constantly looking for prospects on HUDL, so knowing how to capture their attention is key. You can also show clips that aren't on the gridiron. You can show combine videos and football camp highlights.
How to use HUDL in recruiting
When you contact coaches and teams for recruitment, the first thing you need to send them is your highlight reel. This shows if an athlete is good enough and qualified to play at their school. You wouldn't want a D1 athlete ending up at a D3 school just because he had a bad highlight reel! If a coach likes what he sees, he may ask for more footage or full game clips. If he likes what he sees, he may give you an offer! Even if you don't get an offer, it will still help boost your recruitment rankings. Make sure you are constantly updating your profile so colleges have the most up to date information about your skillset.
Making the Highlight Reel
Alright, now that you know why having a highlight reel is important, let's talk about how to make one. For starters, make your main highlight reel about 3-5 minutes long of your best plays. Always put your best plays first to capture the coaches or recruiters' attention. Focus on the basics. Don't add crazy effects or timestamps, and definitely don't add explicit music, because some coaches will stop watching and ignore your recruitment profile. I know it sucks, but just stick with the music HUDL provides unless you want to get premium and add your own.
Slides
What your slides should include:
First and last name
Height and weight
Position(s) you play
Stats ex. (148 solo tackles, 5 sacks, and 6 interceptions)
GPA
ACT/SAT score
Phone number, email address, and Twitter handle
Your head coaches name, number, and email address
Before each play, add a marker or spot shadow to identify where you are on the field. Start it a 1-2 seconds before the play starts so the recruiters/coaches can see how the play unfolds. Try to use videos where you are seen at all times. Don't add special effects or mess with the film. Let your athleticism speak for itself! I already mentioned it earlier, but put your best plays first.
How to Make A Football Highlight Reel Using HUDL
Step 1:
Log into Hudl.com, hover over your name and click on "your highlights"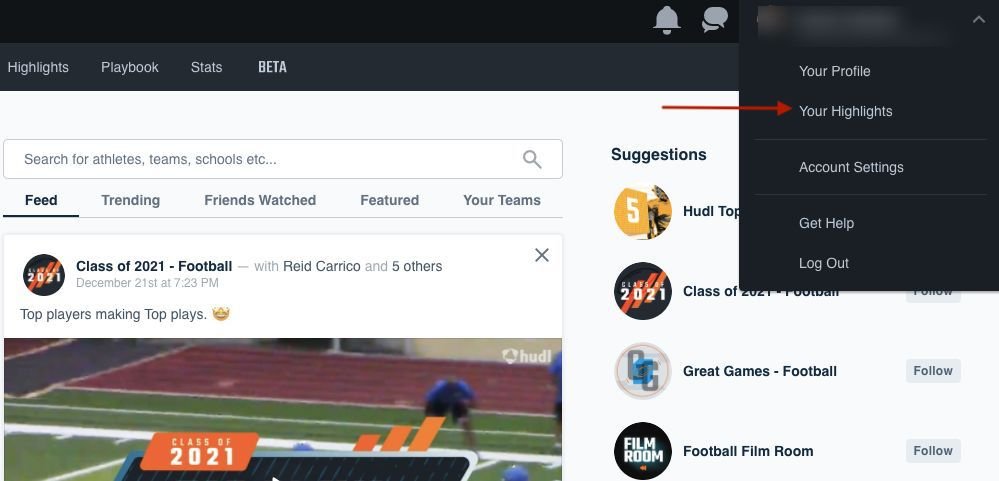 Step 2:
Click "Create highlight"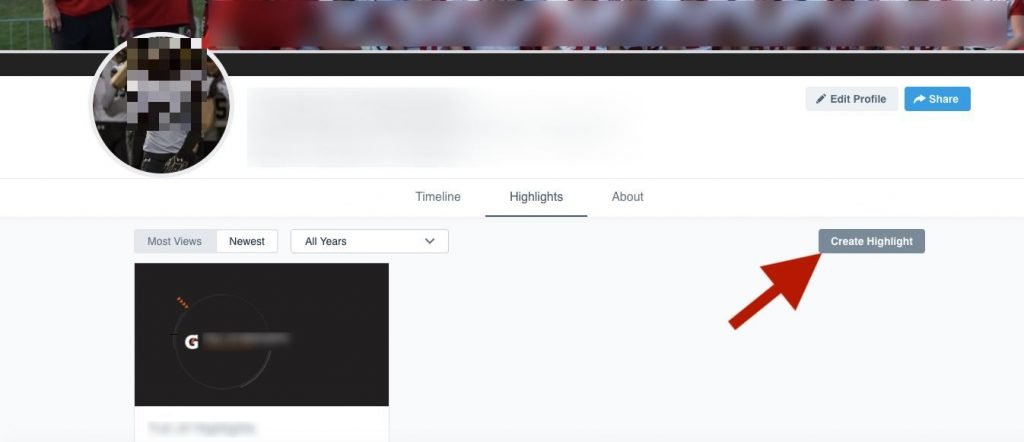 Step 3:
Rename your highlight
Step 4:
Click on the plus in the bottom right corner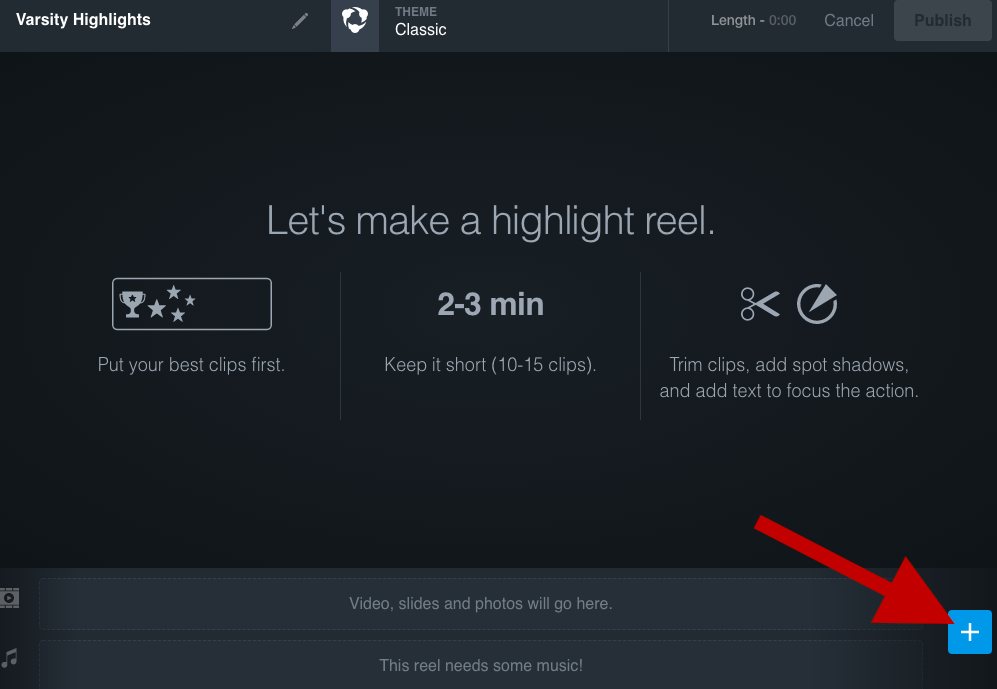 Step 5:
Add Video. Your coaches will have uploaded game film that you can use. You should go through your game film and highlight the clips that you would put on a highlight reel.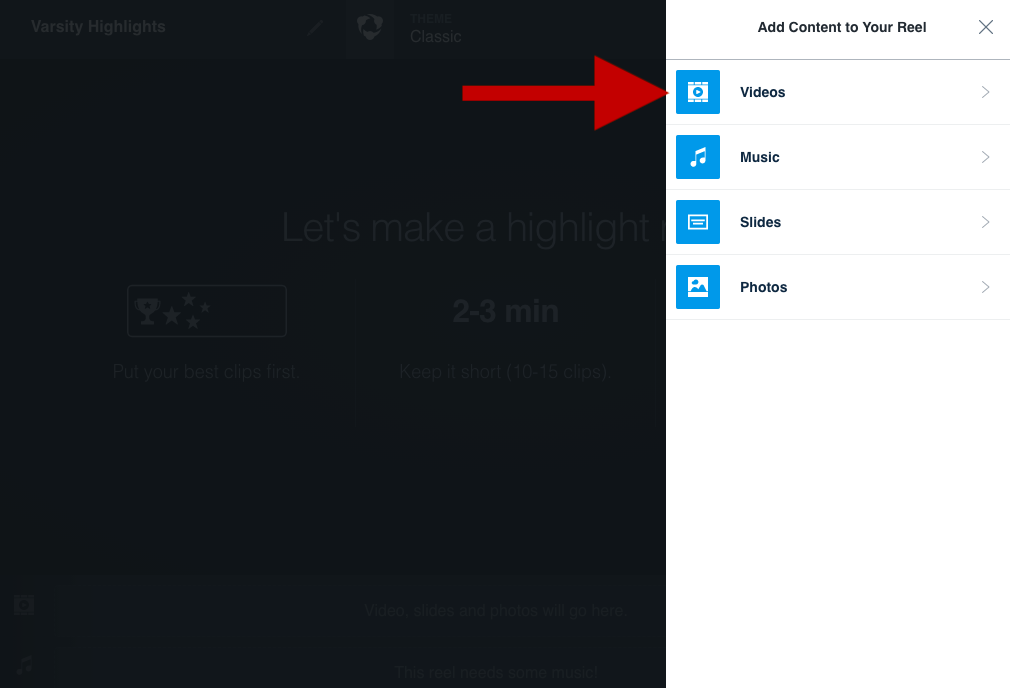 Select which video(s) you want to put in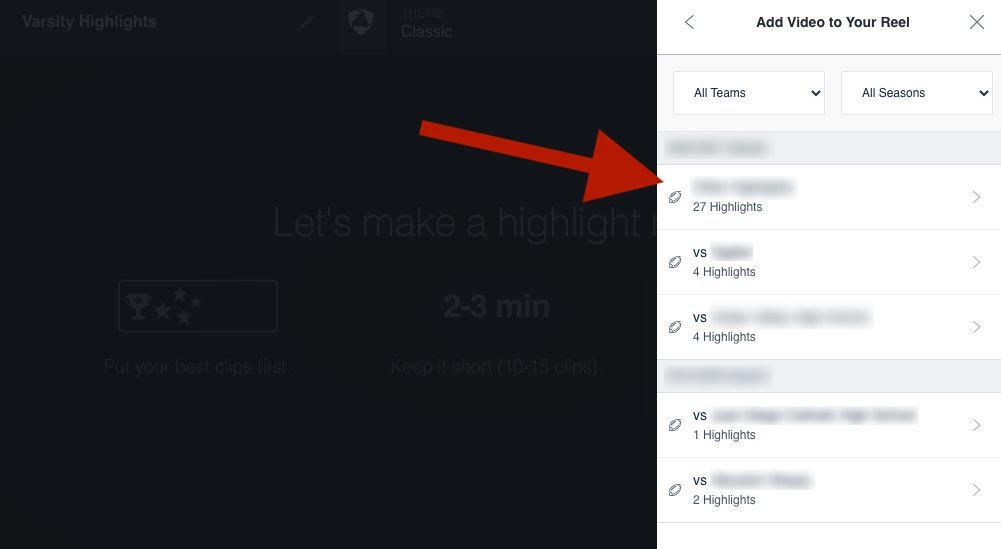 Select all and click "Add # Clips to Your Reel"
Step 6:
Choose a clip and click on the pencil icon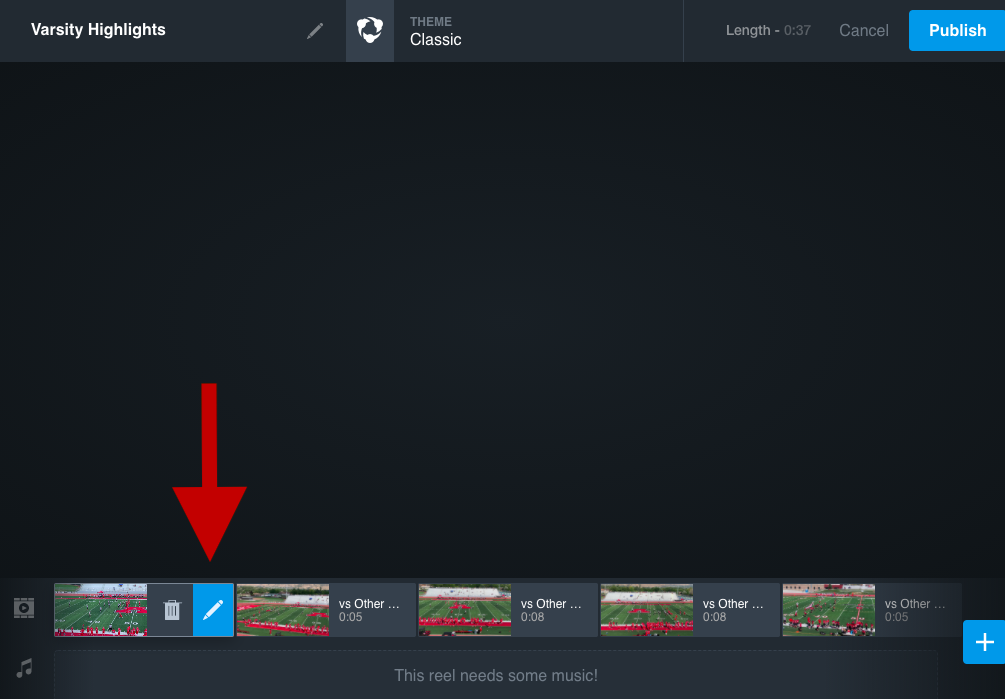 Trim your video, place a spot shadow, or add text. When finished click "Done" at the top right corner of the screen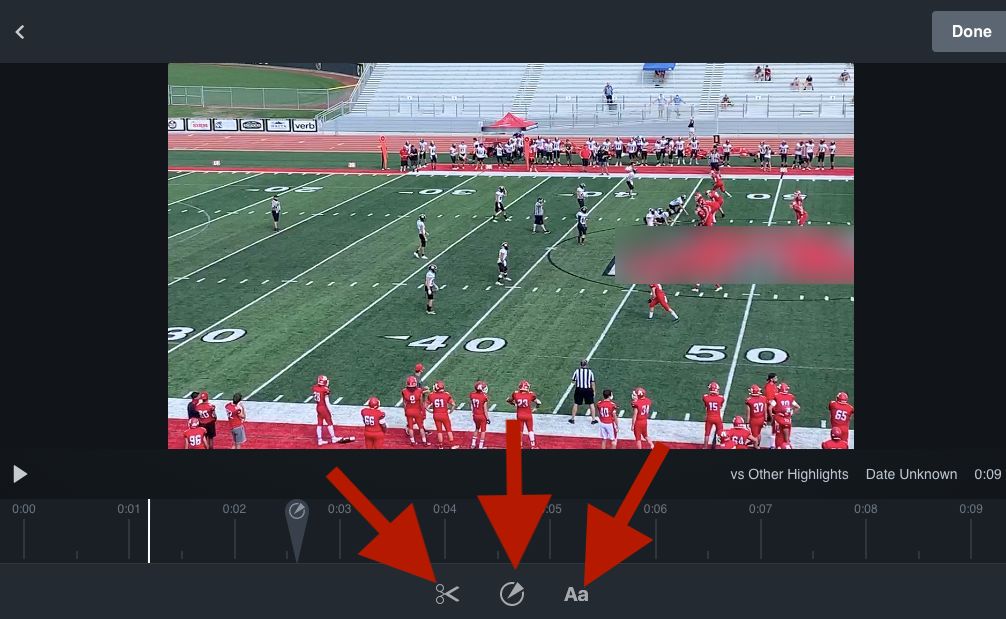 Step 7: (Optional But Recommended)
Add Music
To add music, click on the plus at the bottom right of the screen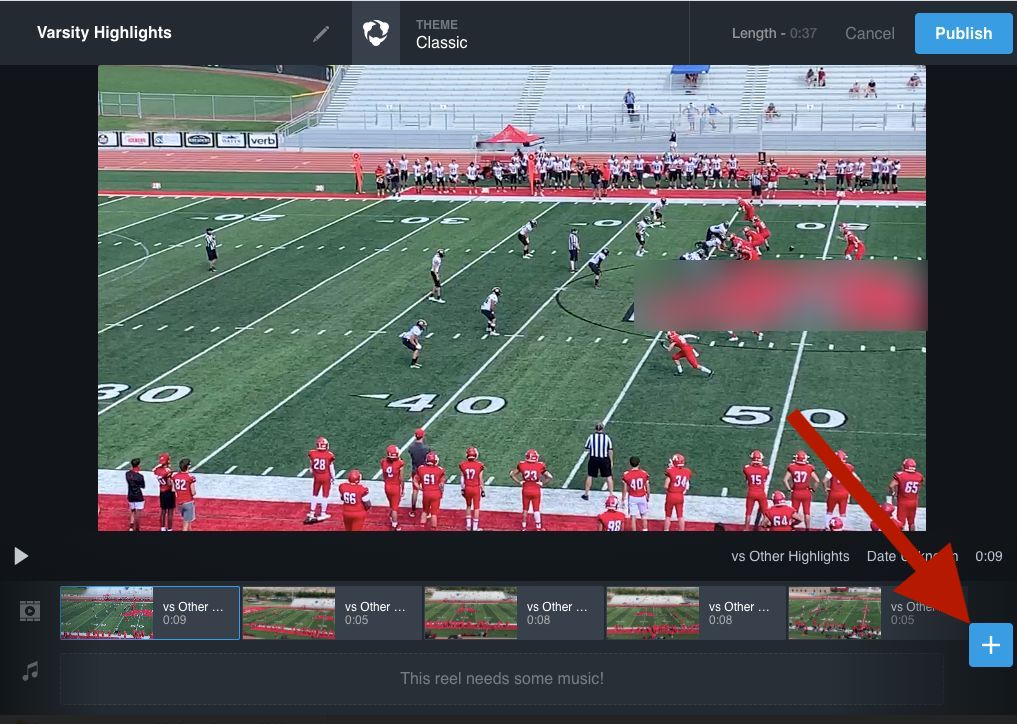 Click on the music icon
Choose a good song and add it to your reel
Step 8: (MUST DO)!
Click the plus icon at the bottom of the screen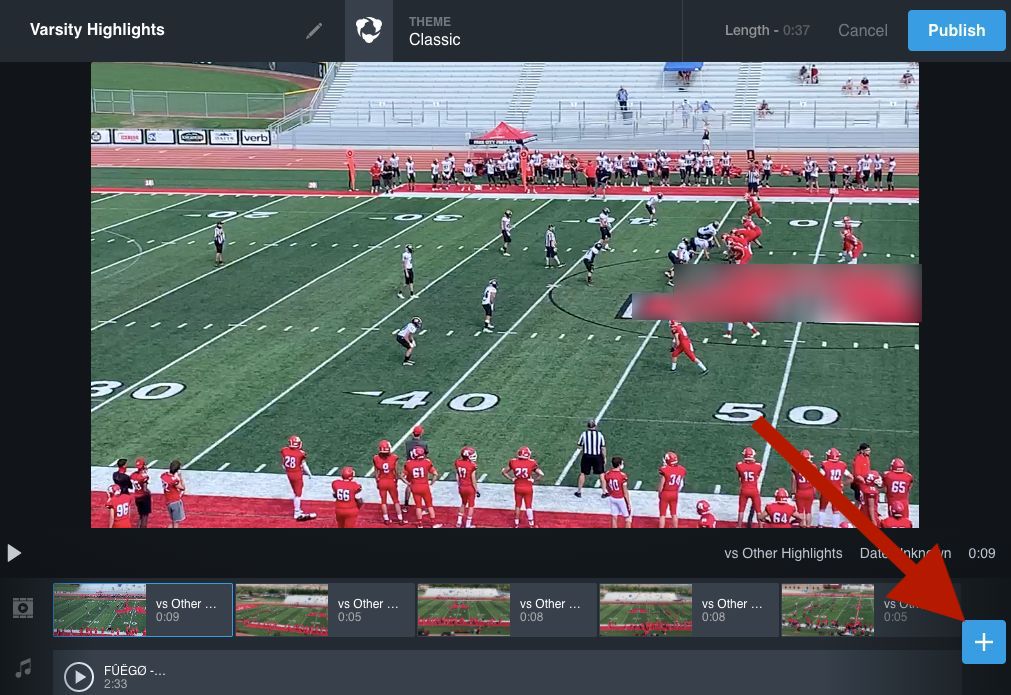 Select "Slides"
Choose a slide from the top 2. DO NOT choose the third one down
Include the following and make multiple slides if necessary
First and last name
Height and weight
Position(s) you play
Stats ex. (148 solo tackles, 5 sacks, and 6 interceptions)
GPA
ACT/SAT score
Phone number, email address, and Twitter handle
Your head coaches name, number, and email address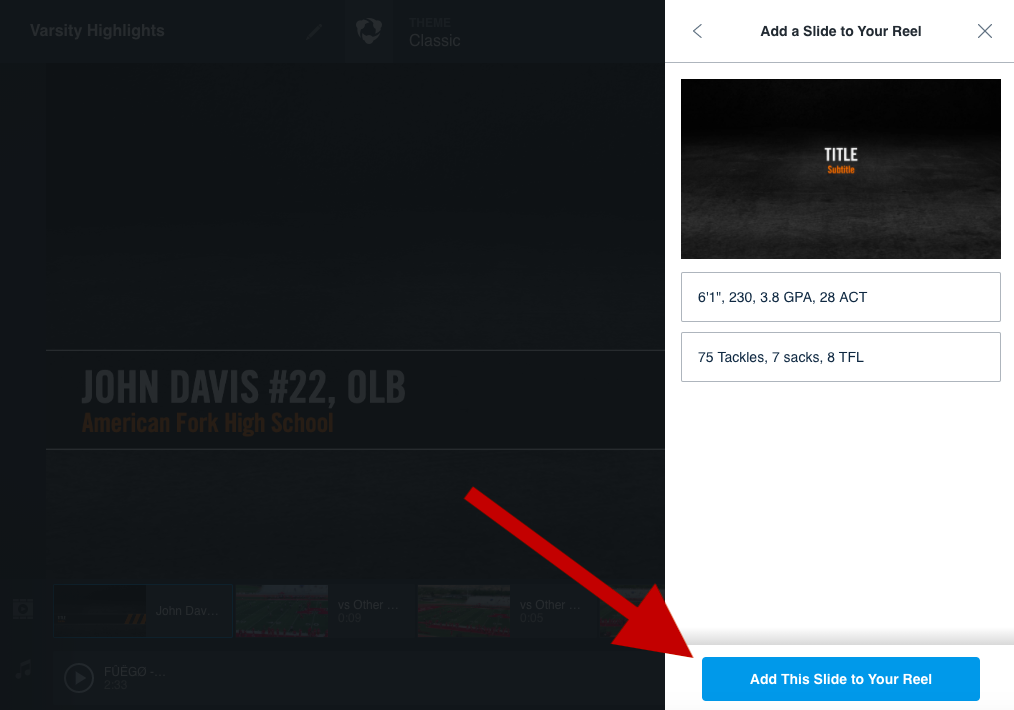 Once you've added all your slides, be sure to drag them to the beginning of your reel. If you leave them at the end, it is likely no one will see them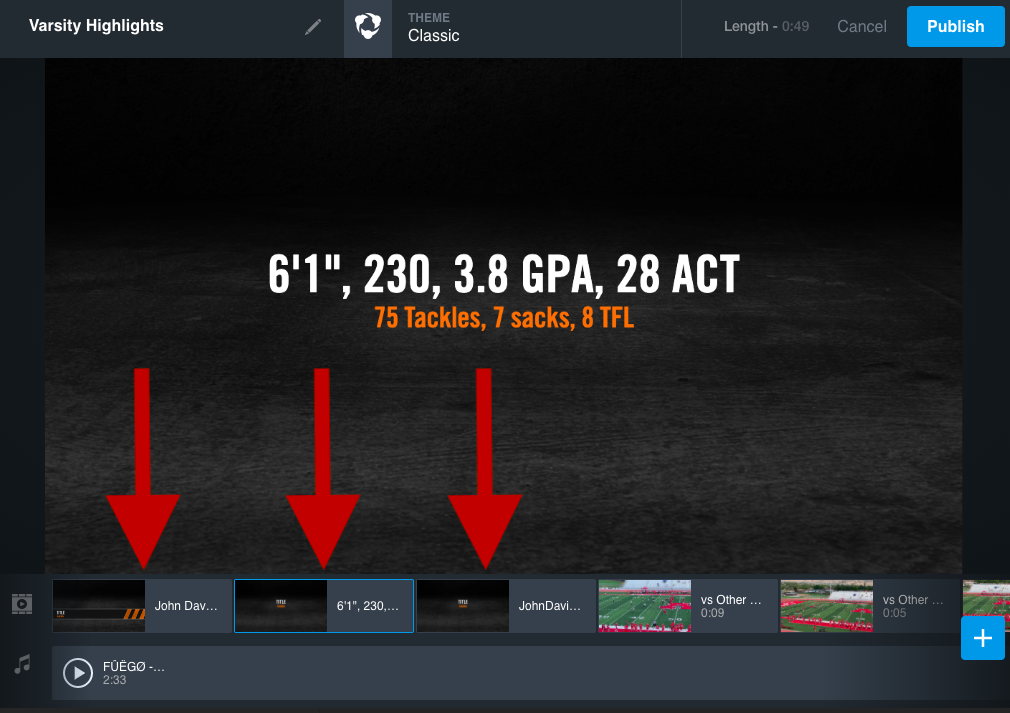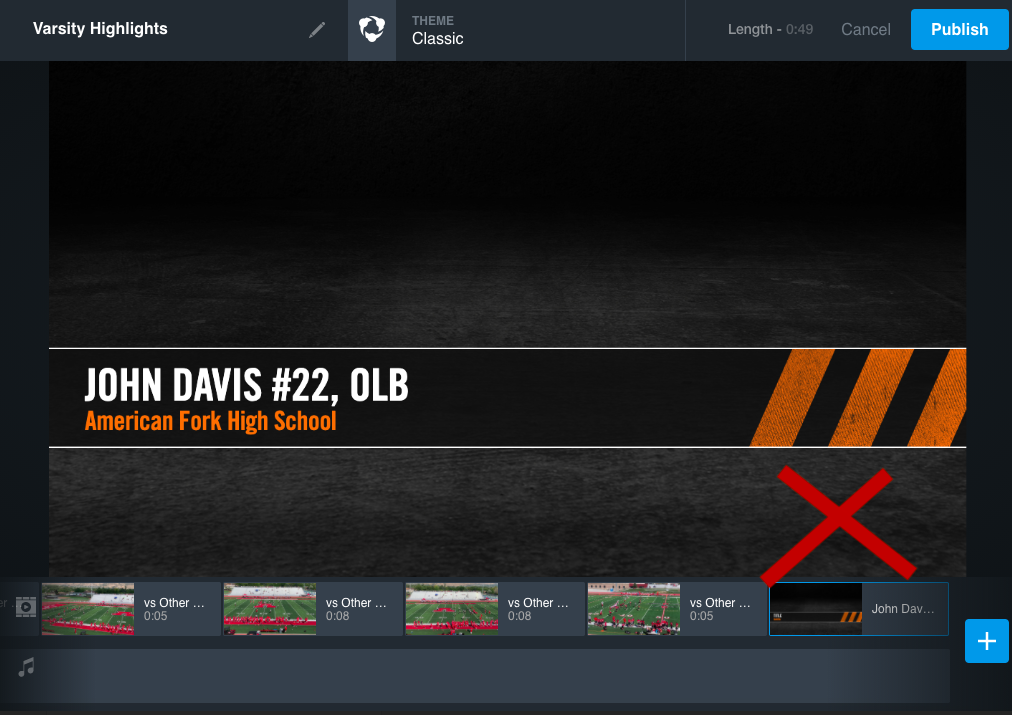 Step 9:
Once finished, press the publish button on the top right corner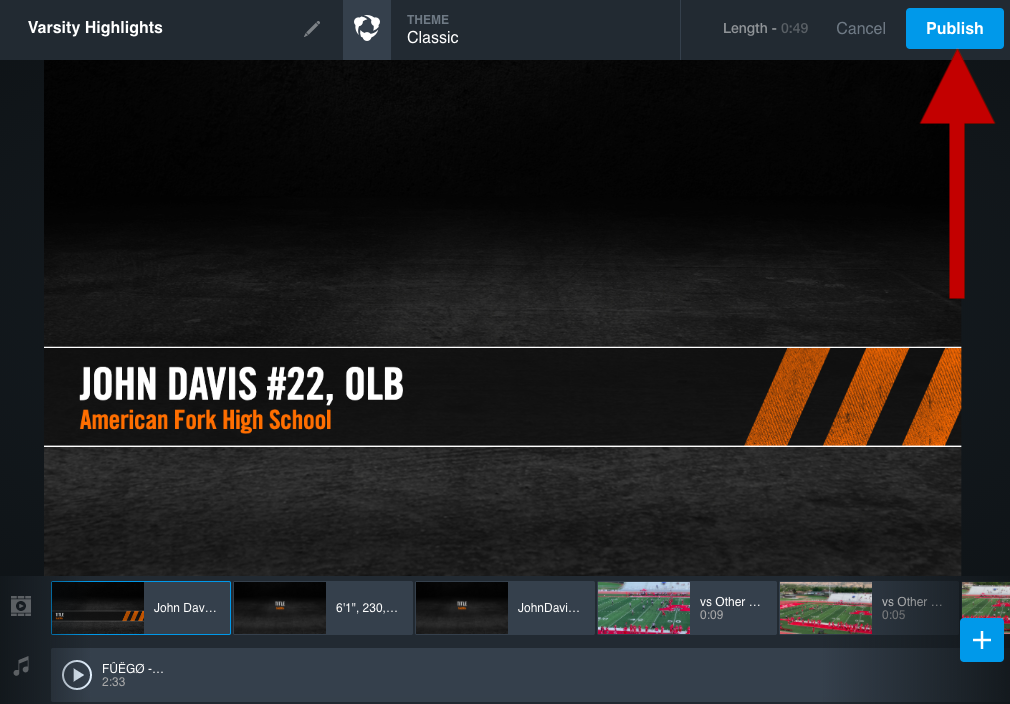 There you have it. There's a step by step visual guide of how to create a football highlight reel. But what about what you need to show for your specific position? If you want to get an edge on the competition, keep reading, and discover what coaches and recruiters are looking for based on position!
What Should You Show in Your Highlights Based on Your Position?
Offense:
Quarterbacks:
Quarterbacks should focus on showing off their footwork and varying their throws. Include your movement in the pocket, throwing on the run, dropping dimes, and running. Make sure you have throws for all parts of the field, for example, deep bombs, medium ins, outs, quick slants, etc. Show you throwing the whole route tree along with this.
Running Backs:
Running backs should show running the ball, catching, and blocking. Make sure it's clear what kind of back you are by your highlights. If you're a receiving type like Christian McCaffrey, then show yourself running outside the tackles and especially your receiving skills. If you're a powerback like Derrick Henry, show yourself running in between the tackles and bulldozing over defenders. Obviously show running, catching, and blocking, but show your primary skills first.
Wide Receivers:
Wide Receivers should show raw athleticism in every play they include. There's no such thing as an unathletic receiver. Show off what type of receiver you are as well. Physical receivers should show snagging balls out of the air in double coverage. Speedy deep threat receivers should show burning DB's and running to the end zone. All receivers need to show off good route running and footwork.
Offensive Line:
The biggest thing to show as an offensive lineman is athleticism and good footwork. Big, fat guys who can't move aren't gonna get any offers nowadays. If you look at any of the top offensive linemen in the country, they're all athletic and can move like fullbacks. In addition, show pulling, drive blocking, and pass blocking.
Defense:
Defensive Backs:
Show off big plays, interceptions, pass deflections, and big hits. You should have blanket coverage during each play. Make sure you show athleticism and agility, as it is a very important characteristic of defensive backs. Most elite defensive backs also aren't afraid of contact, so show videos of you getting physical with the receivers. Jam them, hit stick them, and show that you're a big play lockdown corner.
Linebackers:
Linebackers are very lucky when it comes to making highlight reels. You can show off just about anything, as you do everything on defense. The mains traits coaches want to see in linebackers are good technique in tackles and big hits. There's nothing more satisfying than when a linebacker lights up a receiver running a slant across the middle, or when he blows up the running back for a loss in the backfield. Show yourself manhandling everything that you tackle. If you do this, I can guarantee you'll get noticed by recruiters.
Defensive Linemen:
Defensive linemen should show off their use of hands, getting off blocks, and tackling technique, along with their unique traits. For example, a specialty of rushing the passer. Along with this, show run stopping and pass rushing. Defensive linemen should also be extremely fast and athletic, to be able to get past big offensive linemen. If you can show this, and manhandle offensive linemen with overpowering strength at the same time, you'll be a top recruit in the country guaranteed.
Punters/Kickers:
Most of your highlights will come from non game situations. Try to find a camp to show off your skills footage. If you can't find one, simply go to a field and show off. Of course, always upload impressive kicks onto HUDL.
Conclusion: How to Make A Football Highlight Reel
There you have it guys, the ultimate guide to making a football highlight reel. I hope this article was helpful, as well as informative. If you have any questions or concerns, please do not hesitate to reach out.