Cleats For Wide Receivers
A wide receiver is a football player that specializes in catching passes. As a receiver, you need to be fast, athletic, and even strong. In order to make sure you're the fastest, quickest, and most athletic you can be, I've put together a list of the best wide receiver cleats every wide receiver should have.
Wide receivers move the offense down the field by catching passes and stretching out the defense. A receiver is arguably one of the most important positions on offense because they are the key position to moving the ball through the air.
Nike Vapor Edge Pro 360 Men's Football Cleat Review
The Nike Vapor Edge Pro 360 Cleats are incredible for speed and traction. These cleats are very lightweight, therefore making it easier to run fast and cut quickly. This is one of the most popular cleats among receivers.
This cleat features a ghost lacing system, meaning that you don't need to tie your cleats when you put these on. I hate tying my shoes on the football field (and off) so this is a huge plus. Along with that, wide stud placement on the bottom of the cleats lets you turn and move easily. These have pods on them that give you the ultimate traction for making cuts. These aren't flimsy cleats either, the upper part of the cleat is covered with an overlay for added durability. The only downsides to this cleat are that it only comes in white on amazon and doesn't have ankle support.
| Pros | Cons |
| --- | --- |
| Lightweight | A little expensive |
| Ghost lacing system | Only comes in white |
| Great traction | Doesn't provide any ankle support |
| Wide stud placement | |
| Durable | |
Nike Men's Vapor Untouchable Pro 3 Football Cleat Review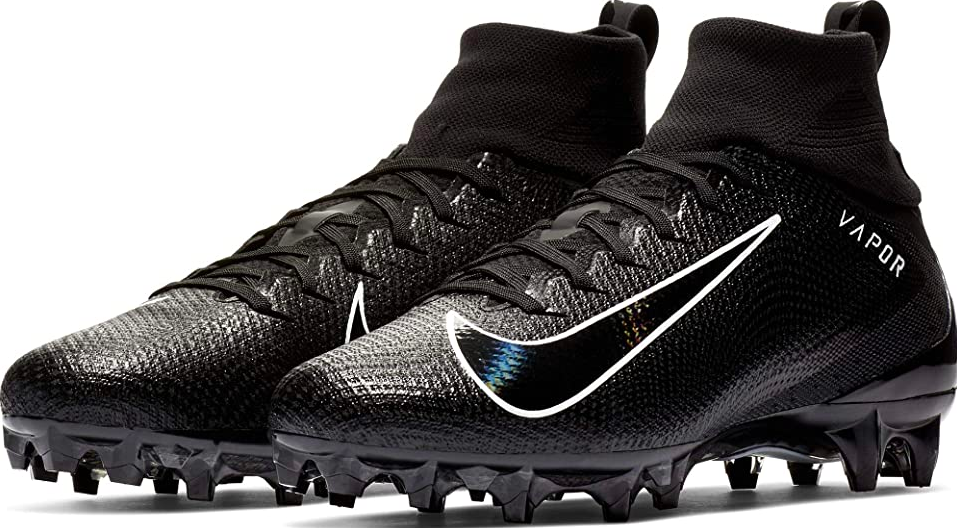 Another very popular wide receiver cleat is the Nike Men's Vapor Untouchable Pro 3 Football Cleat. With its lightweight frame, durable skin, and great traction, the Nike Men's Vapor Untouchable Pro 3 Football Cleat is a great option for any wide receiver.
These cleats are very snug on your feet, and users rarely report injuries while using these cleats. A carbon fiber plate with 14 cleat layout offers strength and traction that won't weigh you down. (These cleats are very light). Mesh and synthetic skins create a lightweight, flexible upper shell to let you move in these cleats, while a one-piece knit bootie construction creates a sock-like fit that wraps around your ankle. It only comes in black and white on Amazon, but that's no problem considering that black and white can go well with just about anything. There's also no ankle support on this cleat.
| Pros | Cons |
| --- | --- |
| Lightweight | Only comes in black and white |
| Snug | No ankle support |
| Bootie instead of laces | |
| Good traction | |
Nike Alpha Huarache 7 Elite Lax Men's Football Cleats Review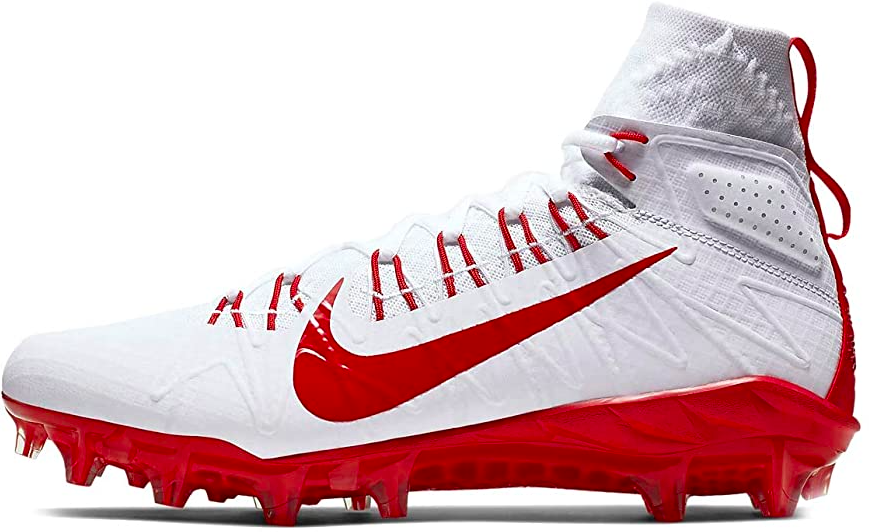 The Nike Alpha Huarache 7 Elite Lax Mens Football Cleats are incredible cleats. These celats truly deserve the "Elite" associated with its name. These cleats have a high level of comfort and performance. It also doesn't seem to be lacking in the visual department, given that they come in red and white and green and white. That's an issue if your team doesn't have those colors, but luckily, there are other cleats you can get.
The bottom studs on the cleats are in triangular shapes which gives you a crazy good amount of traction. Because of the higher top, these cleats also provide more ankle support than any other wide receiver cleats in this article. These cleats have been known to peel, however, the shoes fit well.
| Pros | Cons |
| --- | --- |
| Comfortable | Only comes in red/white and green/white on amazon |
| Triangle studded bottoms to give good traction | Known to peel |
| Ankle support | |
| Fits well | |
Adidas Men's Adizero 8.0 Football Shoe Review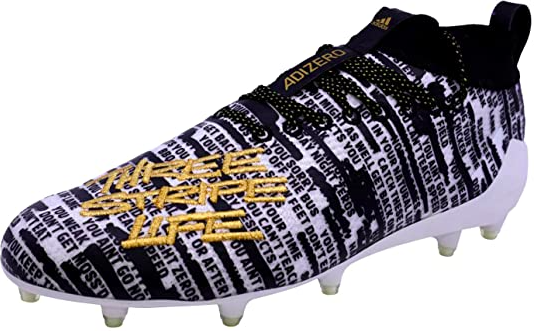 As one of the flashiest football cleats on the market, the Adidas Men's Adizero 8.0 Football Shoe is an incredible wide receiver cleat. Not only does it have a wide variety of designs on amazon, it has great traction and is also lightweight.
This cleat is 100% synthetic, is a lightweight football cleat that is designed for speed and stability, has a good fit, the tongue and heel pulls on easily and off, and the outsole is cleared for traction. The only con is that this cleat doesn't have ankle support. That can be made up for because the cleat functions well and also has a ton of design options. You'll have the flashiest cleat on the field with these.
| Pros | Cons |
| --- | --- |
| Lots of design/look options | No ankle support |
| Good traction | |
| Lightweight | |
| Easy to get on and off | |
Adidas Men's Adizero Football Shoe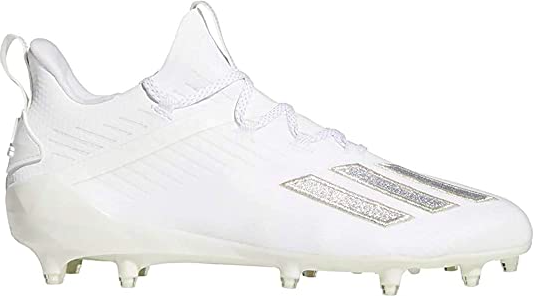 The Adidas Men's Adizero Football Shoes are a great option for wide receiver cleats. These flashy white cleats may not be not as trendy as they used to be, but they're still a good option for any football player. These cleats are lightweight, breathable, durable, and also include good traction.
These are good cleats, they're light, durable and I can move in them, but I twisted my ankle in them. They've got zero ankle support."
The only issue with these cleats is that they don't have any ankle support. The user who tested them twisted his ankle using them, but that could've been avoided if he taped his ankle. These are good cleats and if you get them, I recommend taping your ankles too. Regardless, these are still a good pair of wide receiver cleats.
| Pros | Cons |
| --- | --- |
| Lightweight | No ankle support |
| Breathable | Only comes in white |
| Good traction | |
| Tough and durable | |
What To Consider Before Buying Wide Receiver Cleats:
You have to consider many factors before buying cleats, and unfortunately, they aren't cheap! Before buying a pair of cleats at your local store, you need to look through your other options and consider other points. This is so you can be assured that you'll have the best receiver cleats at the end of the day.
Why Wide Receivers Matter:
With so much focus placed on the quarterback, it's easy to overlook what really makes him shine. As it turns out, wide receivers are the ones that really make the offense click. Of course, you do have linemen and runningbacks which are equally as important, and all should have top-of-the-line gear, including cleats.
Material In Wide Receiver Cleats:
Playing wide receiver is one of the toughest positions on offense. You need to be fast enough to run past defensive backs, strong enough to block them on runnning plays, and agile enough to make quick cuts while running routes. Lets say you played wide receiver and you went up against an equally athletic cornerback. When two players are evenly matched physically, the one with better gear wins. That's why it's imparitive you get a good pair of wide receiver cleats.
The best shoemakers in the world (Nike, Under Armour, Addidas) know this and put a lot of effort into making their cleats with high-quality material. You'll want to purchase wide receiver cleats (and really all cleats in general) from one of these companies.
What Kind of Cleats Should Wide Receivers Get?
With many different kinds of cleats out there, it's hard to know which one to buy. You don't want to end up getting a pair of lineman cleats when you really need receiver cleats. Wide receives should get low-cut cleats. Here's why:
Low-cut cleats:
Low-cut cleats are typically used by running backs, defensive backs, and wide receivers. This is because they are optimized for speed, agility, and maneuverability. The downside to this type of cleat is that it doesn't provide great protection against injuries. This is because the cleat ends just below the ankle, which gives a greater risk to an ankle or foot injury. If you get these cleats, make sure and wrap your ankle.
Size In Wide Receiver Cleats:
Another important factor to keep in mind is size. Choose a size that will fit your feet! This should be obvious but I have seen many people waste money on cleats that don't fit them. Don't let this happen to you!
Foot And Ankle Support In Wide Receiver Cleats:
Your feet and ankles are the anchors of your body. They keep you upright and allow you to move. An ideal wide receiver cleat allows for a full range of motion in your ankle. That's why all these cleats are low-cut. They allow for ankle movement which gives you as much speed and flexibility as possible but you have a risk of twisting your ankle. Make sure and tape your ankle before using them.
Many wide receivers have been injured and sidelined due to a foot or ankle injury, so don't let that happen to you! Remember to choose a cleat with good traction, a low-cut, and one that fits your foot well. Make sure you protect your feet and prioritize the well-being of your ankles so you don't get hurt!
What Wide Receiver Cleats Are Right For You?
There are three different companies that provide the very best for this specific niche. Nike, Under Armour, and Adidas. These cleats are all high to mid-cut, have incredible traction, and fit well if you choose the right size. On my football team, these specific cleats are the most popular amongst the wide receivers.