What are the best lineman cleats?
A lineman is a huge football player that specializes in blocking opponents. Linemen can create holes for running backs, as well as protect the quarterback when he's throwing. A lineman is arguably one of the most important positions on offense because they control the line of scrimmage. A good lineman who knows how to put together a great highlight reel is pretty much guaranteed a college offer. As a lineman, you need to be big and strong, as well as athletic and fast. In order to make sure you're the quickest you can be, I've put together a list of the best lineman cleats every offensive lineman should have.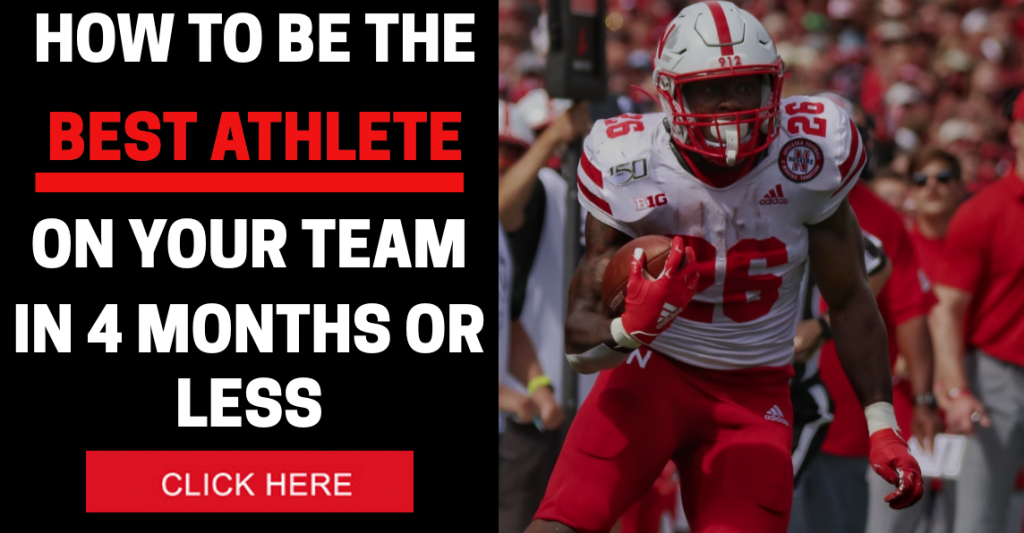 Nike Force Savage Elite (Most protective)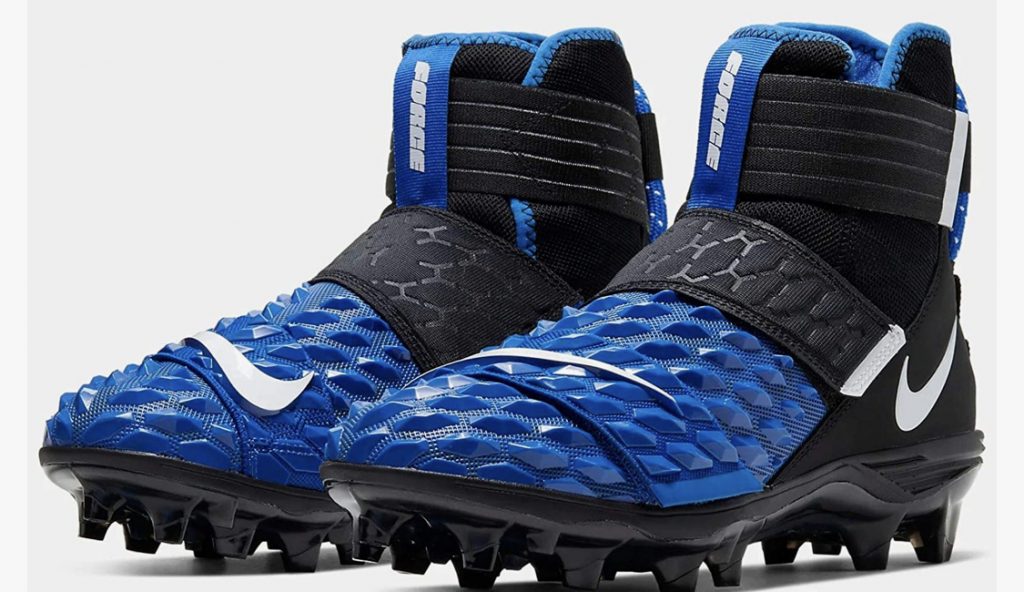 The Nike Force Savage Elite cleats are easily one of the best lineman cleats in this review. It is one of the most popular cleats among linemen. This cleat features NIKESKIN material inside the shoe itself. NIKESKIN is a patented material around the shoe that Nike has developed. It drastically improves the shoe's ability to provide protection from impact. Getting your toes and feet stepped on is the worst, and this technology essentially protects your feet and toes in case they're stepped on.
Along with the NIKESKIN technology, it is also a high cut cleat that provides excellent ankle support, while still letting you move freely. The only downside to these cleats is their weight. Ideally, these cleats should weigh almost nothing, but because of the NIKESKIN feature, protection is sacrificed for speed. These are the only high top Nike cleat for wide feet.
| Pro's | Con's |
| --- | --- |
| NIKESKIN | Heavy |
| Excellent Traction | Expensive |
| High-Cut with ankle support | |
| Sturdy and well built | |
Nike Alpha Menace Pro 2 (Best for movement)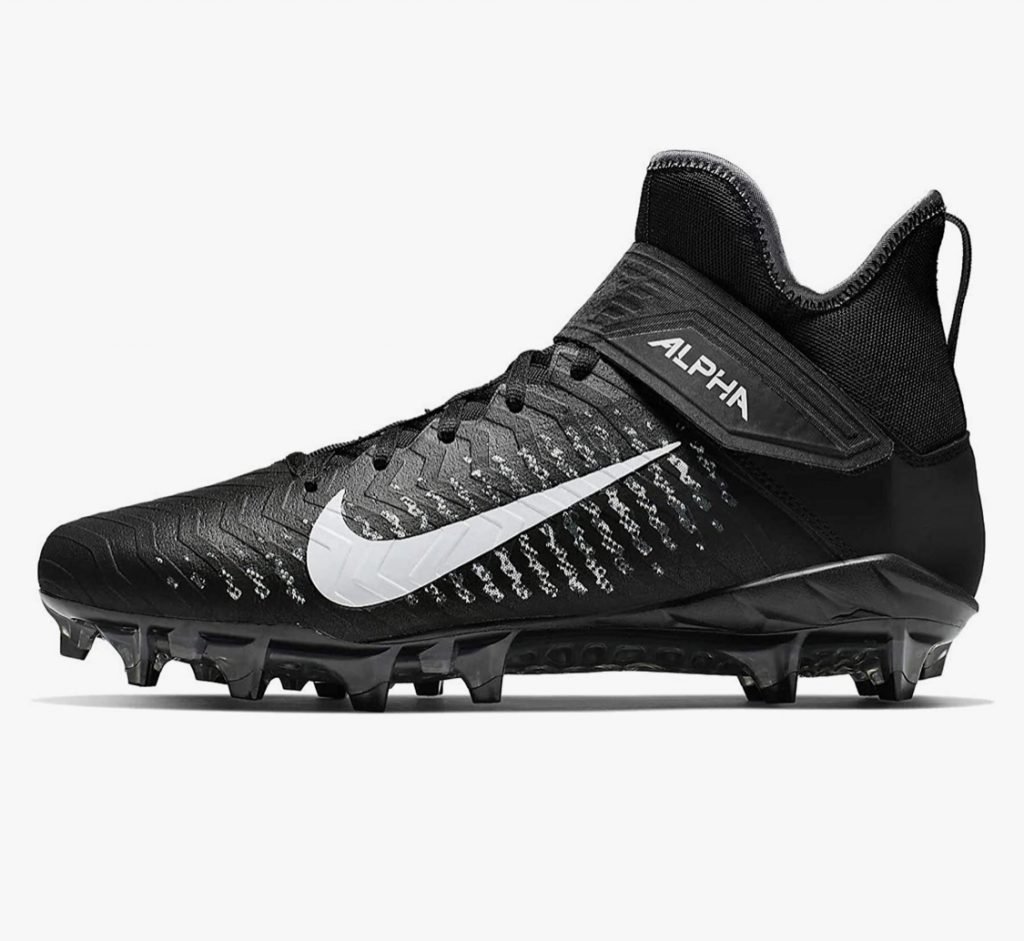 "It feels like I'm running barefoot"
This pair of lineman cleats gives an excellent level of stability, which comes from the plasma X plate in its high cut design. Another pro to this is that it is stylish and supportive. With these cleats, you can be confident that you look good on the field, while feeling secure and protected at the same time. One more thing that caught attention was how comfortable these cleats are. This is because of the 4D insole, and the 3D molded tongue.
| Pro's | Con's |
| --- | --- |
| Lightweight | Not compatible with wide feet |
| Excellent comfort | Expensive |
| Stable and secure | |
| High-Cut and stylish | |
Adidas Men's Freak X Carbon Mid Football Shoe (Best for traction)
As a lineman, foot and ankle support should be your top priority along with traction. These characteristics will let you move defenders easily with the highest amount of force possible. Luckily, the Adidas Men's Freak X Carbon Mid Football Shoe lets you do exactly that. This cleat is a great choice because of its terrific foot and ankle support. In addition to that, it has a heel cup that lets you push defenders easier. It also has an amazing grip so that you don't get thrown off balance.
This pair of cleats is amazing all around because it has almost no downsides besides the price. It is lightweight, grippy, protective and comfortable. Adidas spared no expense to ensure they came out with a top pair of cleats.
| Pro's | Con's |
| --- | --- |
| Incredible foot and ankle support | Fluctuating price |
| Comfortable | |
| Lightweight | |
| Stable | |
| Gives good protection | |
Nike Alpha Menace Elite 2 (Has great flexibility and protection)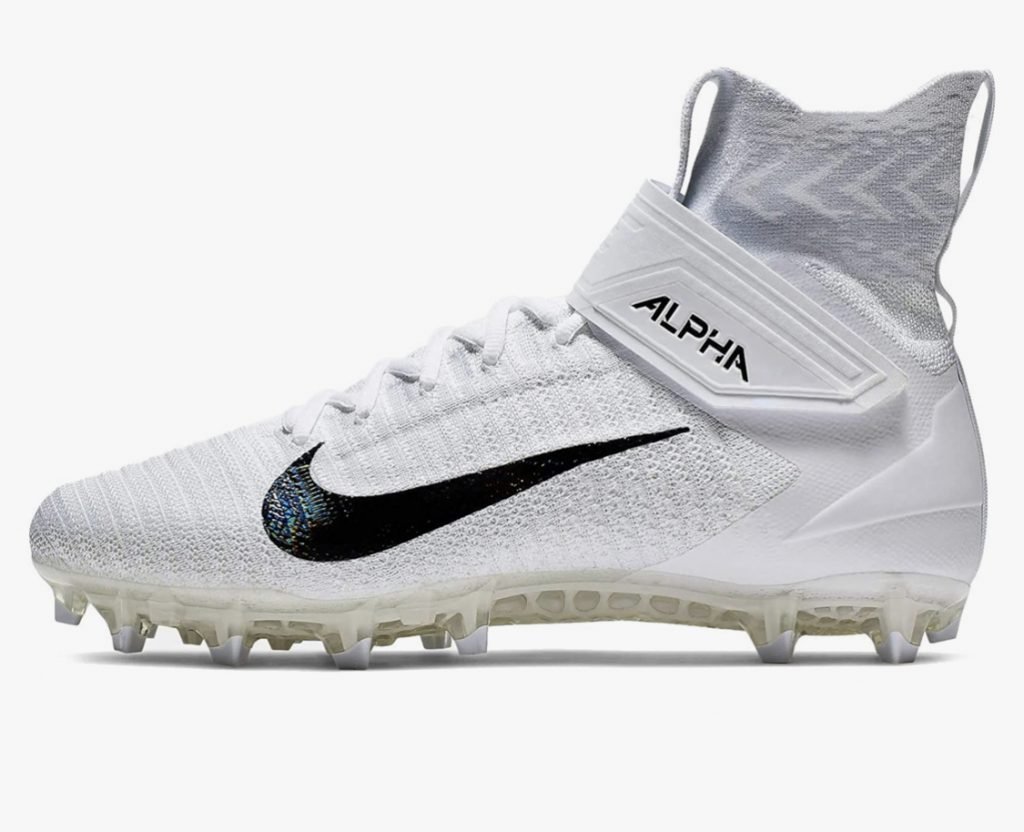 Another pair of great lineman cleats you should consider are the Nike Alpha Menace Elite 2 cleats. Coming from the classic reliable Nike, these cleats are effective and protective. NIKESKIN, the protective technology, is wrapped around the foot area. If you're wearing these cleats, you won't have to worry about your toes getting stepped on. If you forgot what NIKESKIN was, NIKESKIN is a protective outer layer that drastically improves the shoe's ability to provide outer protection.
This pair of lineman cleats is tough, durable, and comes in colors that are easy to match with any team. This cleat also comes with a mid-cut collar that provides stability and support for your feet and ankles. Now, It doesn't have as much support as the Nike Men's Force I talked about above, but this also gives more flexibility in the ankles. Another downside to this pair of cleats is that they're expensive.
| Pro's | Con's |
| --- | --- |
| Tough and durable | Expensive |
| Uses NIKESKIN technology | Is not a high cut cleat |
| Good looking and can match with any team | |
| Grips turf and natural grass well | |
| Can be used in rain/snow games | |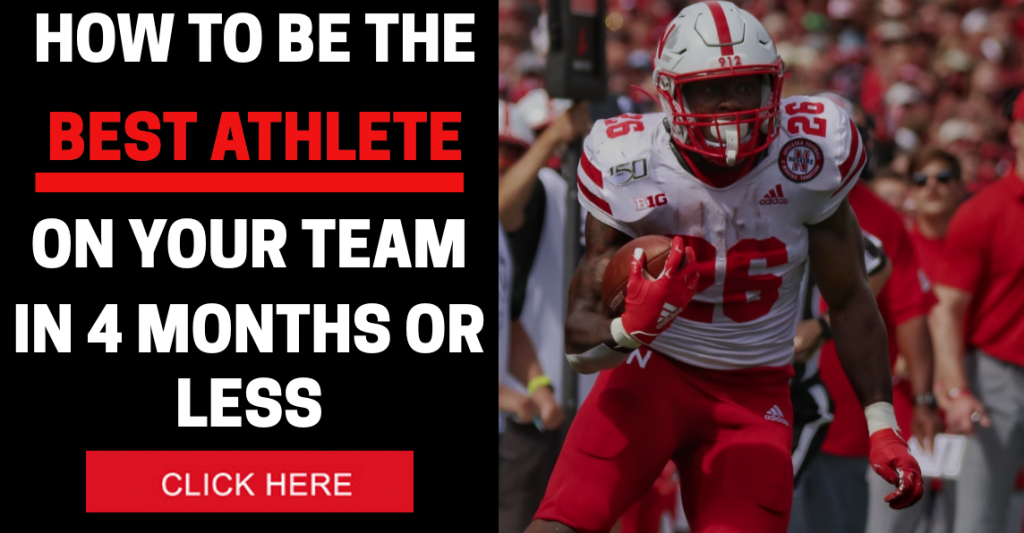 Under Armour Highlight Franchise Football Shoe (Best Overall)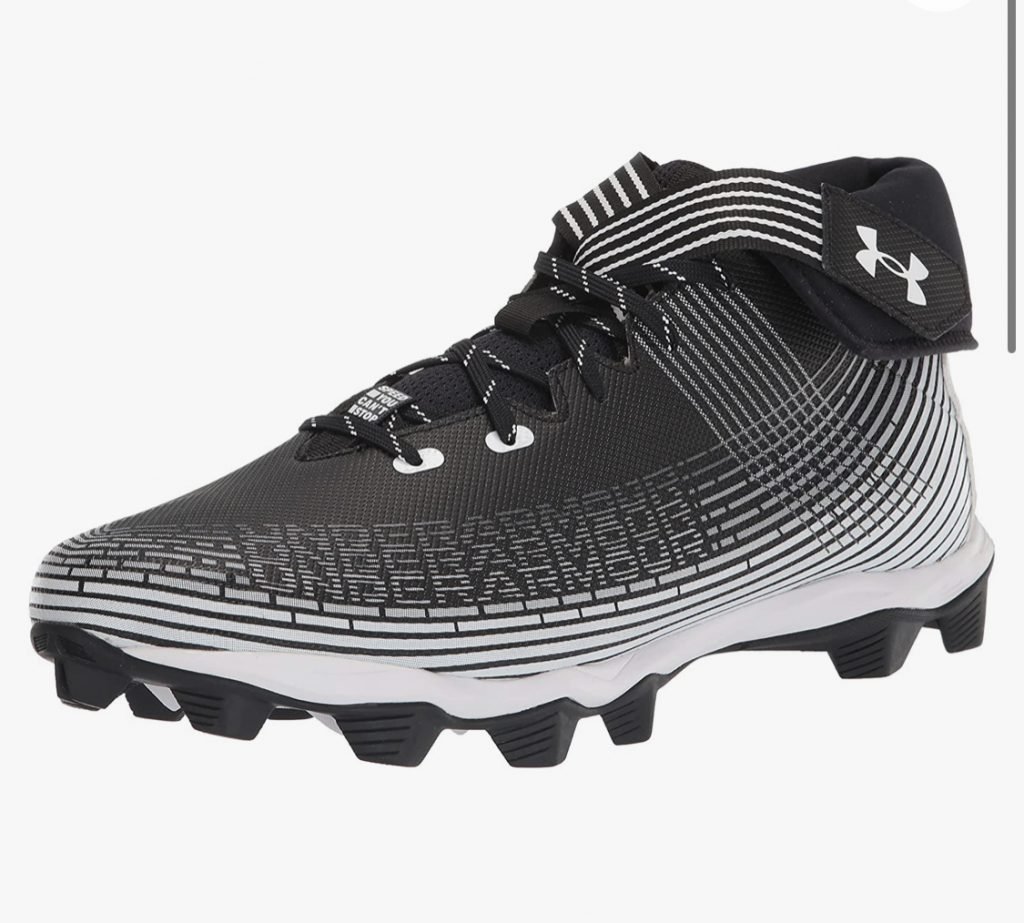 "These are definitely the best lineman cleats. Don't bother looking at others, just buy this one."
We saved the best one for last. This cleat is the top choice amongst linemen. Why is that? This is because it is great in every aspect, and is known for helping linemen be more athletic on the field. This cleat is designed for maximum athleticism, while still being durable and sturdy. It has the flexibility of receiver cleats and the protection of lineman cleats.
This pair of lineman cleats gives a locked-down feeling due to its tech fit construction technology. It also lets the user make quick cuts and change direction easily through its superior studs on the bottom. While this is happening, you enjoy flexibility and security in the ankles and heels. Even though it's not a high cut cleat, you still have security in your ankles with this mid-cut lineman cleat.
| Pro's | Con's |
| --- | --- |
| Best all around lineman cleat | Only goes with red or blue team colors with the amazon link |
| Very affordable | |
| Locked down feeling | |
| Helps with quick cuts and change of direction | |
| Handles all field surfaces | |
Why linemen matter:
With so much focus placed on the quarterback, it's easy to overlook what really makes him shine. As it turns out, offensive linemen are the ones that are often overlooked. People mostly view them as large, big guys that are part of a moving wall. That is true, however, linemen are much more important than most newbies to football think. People fail to value the importance of the offensive line, even though the offensive line pretty much dictates how good an offense actually is. Because of that, it's important they're equipped with top gear, including cleats.
What to consider before buying lineman cleats:
There are many factors you have to consider before buying cleats, and unfortunately, they aren't cheap! Before buying a pair of cleats at your local store, you need to look through your other options and consider other points. This is so you can be assured that you'll have the best lineman cleats at the end of the day.
Material in lineman cleats:
The offensive line is one of the toughest positions on offense. You need to be strong enough to push back defensive lineman and linebackers, agile enough to catch up with defenders, and tough enough to take and give hits. When two players are evenly matched physically, the one with better mental toughness wins. Football is as much a mental game as it is physical. While all this is happening, you can't be worrying about your cleats. This is why you can't sacrifice price for quality.
The best shoemakers in the world (Nike, Under Armour, Addidas) know this and put a lot of effort into making their cleats with high-quality material. You'll want to purchase lineman cleats (and really all cleats in general) from one of these companies. There are two types of cleats, first, detachable stud cleats, and second, hard molded cleats. Detachable stud cleats are exchangeable, meaning that you can change the bottom depending on the field you are playing on. These types of cleats usually provide stronger traction. Hard molded cleats are non-exchangeable, made out of hardened plastic, and fitted to cleats. My personal choice is detachable stud cleats because I can customize them for turf, as well as grass.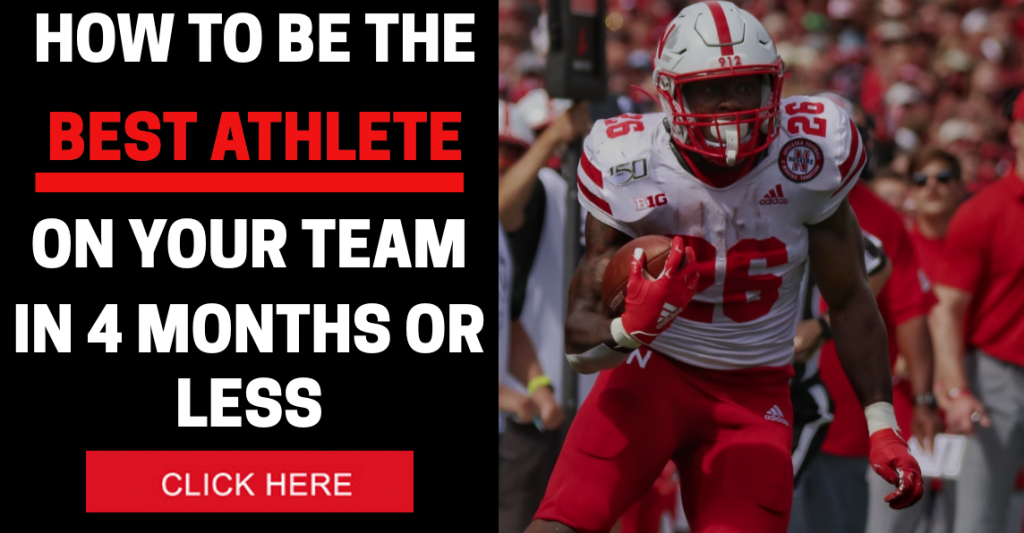 Types of cleat cuts:
There are three major types of football cleats. Low-cut, mid-cut, and high-cut. Generally, linemen want to use mid-cut or high-cut cleats.
Low-cut cleats:
Low-cut cleats are typically used by running backs, defensive backs, and wide receivers. This is because they are optimized for speed, agility, and maneuverability. The downside to this type of cleat is that it doesn't provide great protection against injuries. This is because the cleat ends just below the ankle, which gives a greater risk to an ankle or foot injury.
Mid-cut cleats:
The mid-cut cleats are designed to give better ankle protection to the player using them. Mid-cut cleats end just above the ankle, providing the best of both worlds. Protection, sturdiness, speed, and agility. These cleats work great for linebackers, quarterbacks, running backs and linemen. Using these you sacrifice a little bit of speed for more protection.
High-cut cleats:
High-cut cleats are the most stable and protective cleats. They end high above your ankles and are usually made out of strong and tough materials. The only downside to these is that they don't allow for a lot of agility like low-cut cleats do. This is why they're so popular amongst all lineman and edge rushers.
Size in lineman cleats:
Another important factor to keep in mind is size. Choose a size that will fit your feet! This should be obvious but I have seen many people waste money on cleats that don't fit them. Don't let this happen to you!
Foot and ankle support in lineman cleats:
Your feet and ankles are the anchors of your body. They keep you upright and allow you to move. An ideal lineman cleat allows for a good amount of movement in the ankle, but not so much that you could easily twist your ankle. That's why all these cleats are high to mid-cut. They still allow for ankle movement but without the added risk of a twisted ankle like receiver cleats do. Choose the pair that will provide a secure and comfortable fit without allowing your feet to move around too much. The outside of the cleat should allow for tactile sensation so that you perform at your best.
Many linemen have been injured and sidelined due to a foot or ankle injury, so don't let that happen to you! Remember to choose a cleat with high traction, a high to mid-cut, and one that fits your foot well. Make sure you protect your feet and prioritize the well-being of your ankles so you don't get hurt!
What football lineman cleats are right for you?
There are three different companies that provide the very best for this specific niche. Nike, Under Armour, and Adidas. These cleats are all high to mid-cut, have incredible traction, and fit well if you choose the right size. On my football team, these specific cleats are the most popular amongst the offensive linemen.
Conclusion: Best lineman cleats
Overall, the best lineman cleats are the Adidas Performance Men's Crazyquick 2.0 Mid Football Cleats. Now, of course, you should go and try the other types as well, because everyone's situation is different. Attitude, determination, and strength can help you overcome any obstacle. Wearing the best lineman cleats should make that task easier.
P.S. Drop me a comment and let me know what you think!