Linebacker Gear 101:
Linebackers probably have the hardest job on defense. They stop the run, cover passes, and even blitz. With that being said, it's very important they have the best linebacker gear to make their job easier.
As a linebacker you essentially have to be a track runner, power lifter, and a wrestler at the same time. Linebackers are incredible athletes. You're pretty much the captain of the defense too. You make audible calls, yell out the plays, and are responsible for everything.
All of these natural traits can only do so much for you as a linebacker. You need to make sure you're well equipped to play your position well.
And that's why we're going to talk about the best football equipment for linebackers. Equipping yourself with the best football equipment for linebackers will enhance your performance on the field. After all, if you're going to run full speed into offensive linemen and running backs, you need to be protected.
So, let's take a look at the best football equipment for linebackers that you should have in your arsenal so you can play your position to the best of your ability.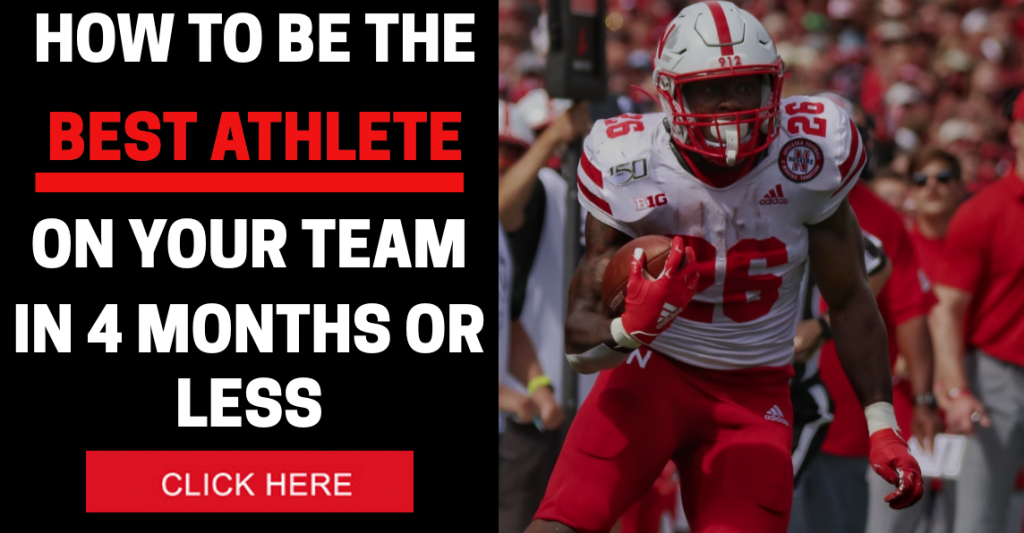 Here's the gear this article will cover:
Helmet
Shoulder Pads
Cleats
Gloves
Lets get to it.
Linebacker Helmet: Riddell Speedflex
I wrote a whole article reviewing the Riddell Speedflex here, and you can go ahead and give that a read if you want to learn more about it in depth. This isn't only a good piece of linebacker gear, it's great for anyone.
This is why I recommend it for linebackers:
The Riddell Speedflex is one of the most popular helmets among football players today. Everyone can use it. Besides it's popularity, the speedflex is also one of the most safe helmets on the market. It was ranked as one of the best football helmets in 2021 by Virginia Tech rating systems with 5 out of 5 stars for safety. That's not to say that nothing will happen to you using it, but it's still better than a helmet from 1990.
It's also really good for linebacker use because it lets you use your peripheral vision. You can see a lot in it, and it's not too heavy either.
Another pro to the Riddell Speedflex is that it's comfortable. No one likes being in uncomfortable gear during a game, and the speedflex certainly isn't uncomfortable. In fact, it's one of the most comfortable helmets I've ever worn.
| Pros | Cons |
| --- | --- |
| Ranked #9 with 5 stars by Virginia Tech Football Helmet Ratings | Safe, but not the safest there is |
| Ratchet Lock chinstrap which allows for easy chinstrap adjustments | Lacks technology such as D30 and TPU |
| Polycarbonate shell | Can come off easily |
| The Flex System, which reduces impact force to users | Has a higher price than most helmets |
| Fits well and is comfortable | |
Linebacker Shoulder Pads: Xenith Element Hybrid Varsity Football Shoulder Pads
The Xenith Element Hybrid Varsity Football Shoulder Pads are the perfect fit for linebackers. With lightweight protection, you'll be able to move easily, which everyone has to be able to do. These pads also don't restrict too much motion and come with belts to keep you secure in the pads.
Four more pluses to these pads are that they're breathable, moisture-wicking, have a four-way stretch (so you can get them on easily), and are compressed.
ALL-PURPOSE COVERAGE: Hybrid is a balance of movement and coverage for the modern position-less player. If you drop coverage and still make hits, these pads are for you.
LIGHTWEIGHT PROTECTION: Xenith shoulder pads are designed for the committed athlete; lightweight and low profile allowing for a full range of motion without sacrificing protection.
EASY MAINTENANCE: Removable padding makes cleaning and maintenance simple.DURABILITY: Lace less design and buckle straps provide durable and dependable wear every season.
RELIABILITY: Belt and buckle size adjustments system eliminates unnecessary bungees and straps and ensures a lock-down fit, every time.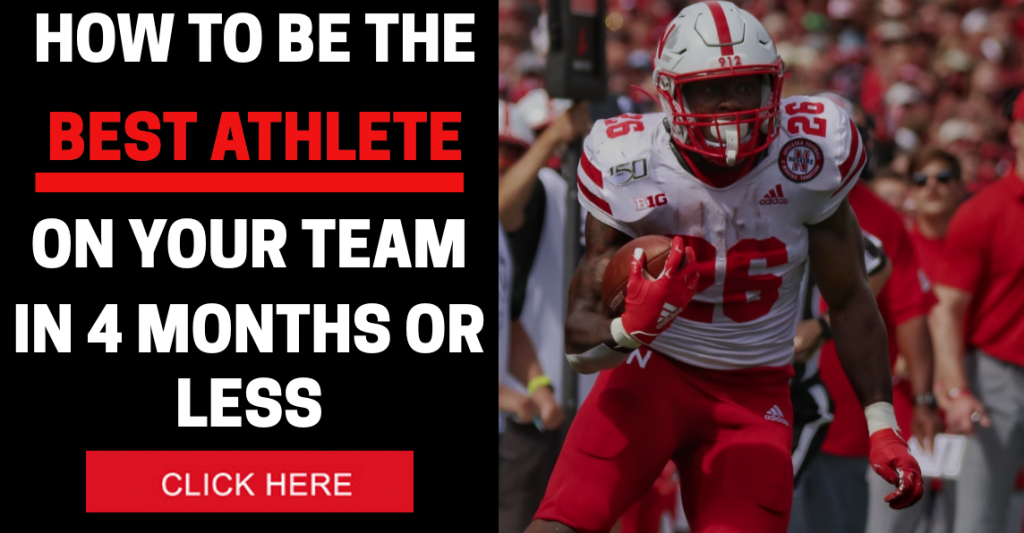 Linebacker Cleats:
This gear review section will be a little different than the previous ones. This is because I recommend linebackers have two pairs of cleats, one to deal with pass heavy/spread teams, and another to deal with heavy run teams.
Let's start off with the Nike Vapor Edge Shark cleats.
Nike Vapor Edge Shark Cleats
The Nike Strike Shark Cleats are the cleats you'll want to wear when you're facing a team that does a pass heavy, spread offense. This is because these cleats are very light, and you can move really well in them. I'm actually using these cleats right now.
I personally love these cleats because they have great traction and they're breathable. Seriously, when you're standing out in 90-100 degree weather for 3 hours, you'll want breathable cleats.
These cleats were engineered with a:
Phylon sole
Synthetic leather upper for improved performance and fit
Full-length phylon midsole for responsive comfort
Aggressive rubber outsole with Nike Fast-Flex, for natural performance and speed
Nike Strike Shark Cleats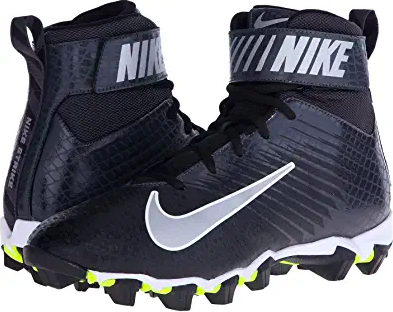 The Nike Strike Shark cleats are the ones you'll want to use when facing a run heavy team. I'm not talking about run 50% of the time, I'm talking about a full on triple option team. These cleats work well as lineman cleats, but they can be used by linebackers as well.
I wrote a full article going in detail about these here, so give that a look if you want.
I've personally used these, and while they don't give you as much speed as the vapor edge sharks listed above, these are really protective.
My ankles feel very secure when I'm using these, and my whole foot feels like it's in a shield. If Achilles would've worn these, he never would've died cause his ankle would be fine. All seriousness though, if you were to get your feet stepped on in these, you'd be fine after a few seconds of minor discomfort.
| Pro's | Con's |
| --- | --- |
| Durable | Heavy |
| High cut cleat | Doesn't allow as much flexibility as a low cut cleat |
| Good traction | Green coloring on the bottom |
| Comfortable | |
| Looks good | |
| Includes laces and velcro | |
Linebacker Gloves: Nike Vapor 6.0
Another obvious piece of linebacker gear we need to add in is gloves. Some backers go without gloves, but I wouldn't recommend this. Gloves can be the difference between an interception and a deflected pass, and when you run into guys, it takes some of the sting off your hands.
The gloves that do all of those things well are the Nike Vapor 6.0's.
The Nike Vapor 6.0s are great because they do everything well, just like a linebacker. They're light, comfortable, grippy, and you can strike with them without hurting your hands. These also come in tons of different colors, so you can have gloves that stand out.
That's it for the article guys. But before you head out, Why don't you drop me a comment down below? I'm curious to hear about other good gear I can review in the future.